12 Apr

Accesit to the best scientific contribution, by the Campus da Auga (Uvigo), to the work "Early warning system MIDAS (Miño River Flood Alert System)

Work awarded by the University of Vigo in the "IV edition of the Awards for research, transfer and scientific dissemination" of the Auga Campus, in the category of Greatest scientific contribution

A second prize was awarded for the article published in the journal Water entitled MIDAS: La New Integrated Flood Early Warning System for the Miño River, authored by Diego Fernández and co-authored by Orlando García, José González Cao, Carlos de Gonzalo Aranoa, José Antonio Rodríguez, Carlos Guillermo Ruiz del Portal and Ramón Gómez Gesteira. In it they present the Miño Flood Alert System (Midas), a flood early warning system for the international Miño-Limia basin.

This system is the result of the Risc Miño-Limia project, financed by the Interreg V-A Spain-Portugal Cross-border Cooperation Programme (Poctep) and led by the Miño-Sil River Basin Authority.

It is an Integrated Early Warning System against floods, called MIDAS (Miño River Flood Alert System), which uses as input data to the system, the rainfall forecast provided by MeteoGalicia, resulting in a predicted flow at the points analysed and a foreseeable extent of flooding in the modelled sections, issuing an alert in the event that the pre-established thresholds are exceeded.

The forecasts are made 72 hours in advance and with hourly precision.

It uses free software (HEC-HMS hydrological model and IBER Hydraulic model) and has been developed by researchers from the Water Campus of Ourense of the University of Vigo, with the collaboration of the CHMS, the Faculty of Engineering of Porto and the Portuguese Environment Agency, in the framework of the Poctep RISC_ML Project led by the CHMS.

In this same session, the award for the best scientific contribution went to the article Hydrometereological droughts in the Miño-Limia-Sil hydrographic demarcation ( northwestern Iberian Peninsula): the role of atmospheric drivers, authored by Rogert Sorí and co-authored by Marta Vázquez, Milica Stojanovic, Raquel Olalla Nieto, Margarita Liberato and Luis Gimeno, members of the Ephyslab group. Published in Natural Hazards and Earth System Sciences, of the European Geosciences Union, the work identified the meteorological droughts that affected the Miño-Limia-Sil hydrographic demarcation during the period 1980-2017, with emphasis on the investigation of atmospheric circulation as a driver of different drought conditions.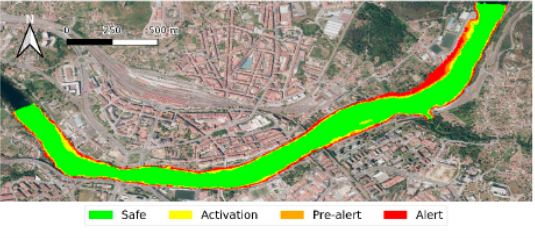 Result of the model forecast of flood spots in Lugo.