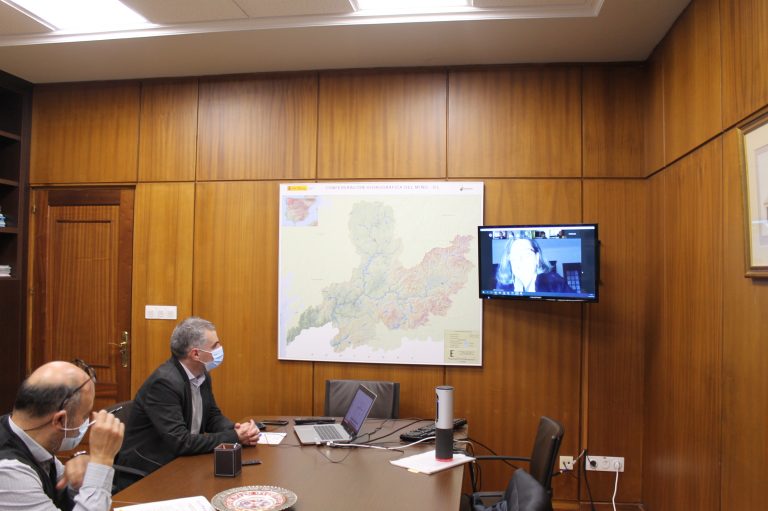 22 Jan

The Risc Miño-Limia project has reached 80% of completion

Posted at 08:57h

in

media

The president of the CHMS, José Antonio Quiroga, has just met by videoconference, the Management Committee of the RISC_Miño Limia Project, the project management body, in which all beneficiary partners are represented; on the Portuguese side, the Portuguese Environment Agency APA and the Faculty of Engineering of the University of Porto; on the Spanish side, the Ourense Campus of the University of Vigo and the Hydrographic Confederation of the Miño-Sil O.A., as the main partner.

During the meeting, the degree of execution of each of the activities was analyzed, starting with the new mapping of the demarcation while waiting for the relative results of a new LIDAR flight, the study of the impact of climate change on water resources, already completed, and the application of these to the balances of resources and demands, which is already underway.

Valuations

Likewise, the document on the joint drought plan, which was prepared during the last year and is being studied by the Portuguese side, was also presented.

On the other hand, the important advances in the development of hydrometeorological and hydraulic models, both by the Universities and by the CHMS, which will allow improving the Decision Support System (SAD) in the face of extreme phenomena, with improvements both in hardware and software, were valued.

It was also reported on the completion of the construction of new monitoring stations CHMS, has already completed five SAICA stations, in the rivers Louro (Tui, Pontevedra), Deva (Arbo, Pontevedra), Sarria (Sarria, Lugo), Avia (Leiro, Ourense), and Arenteiro (Carballiño, Ourense) and two SAIH stations in the rivers Asma (Chantada, Lugo) and Arnoia in (Allariz). In the same way, the North HRA of the Portuguese APA has already put into operation the 2 stations in Monçao and Arcos de Valdevez.

It was also indicated that the studies of the natural retention measures against floods in Baños de Molgas (Ourense) and Monforte de Lemos (Lugo) are already well advanced and are expected to be completed during the first half of this year.

Finally, the partners have agreed to continue fostering cooperation among all the partners with a view to future joint projects to improve the response to extreme phenomena such as floods and droughts, and to improve prevention, protection and preparedness to prevent damage to people and property.

Conclusions of José Antonio Quiroga

"In the meeting all the partners have expressed the high degree of cooperation and coordination between the members of the Technical Working Group during the development of the project which, with a total budget of 2,335,000 euros, has reached 80% of execution. The Risc Miño-Limia began in July 2017 and will end in December 2021, after being extended due to the situation generated by COVID-19", explained the president of the CHMS.